WELLNESS
EMOTIONS
Your body in capable and wise hands
LIGHTS AND PERFUMES
THAT GENERATE EMOTIONS
The time you put to your well-being is never lost
DETAILS DO MAKE
A DIFFERENCE
Health and wellness
PUT YOUR BODY IN GOOD HANDS
Just enter in our beauty salon to appreciate the pleasure of being surrounded by lights and scents that evoke emotions of well-being, but that is not enough, we put your body in capable and skillful hands.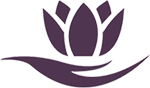 Relaxation area
Turkish bath
Water SPA
Samovar Corner
Holistic massages
Wellness paths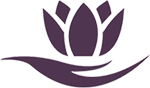 Beauty care services
Basic beauty services
Make-up
Nail art
Casting of gels
semi-permanent enamel
Solarium
Mud Therapy
Mold Therapy
Facials /body treatments
Talasso salt Scrubs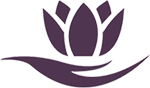 Technologies
Hyperbaric Oxygen
Radiofrequency
Intense Pulse Light (permanent hair removal)
Electrostimulation
Pressure therapy
BEAUTY
RITUALS
The customer's wellness and relax is put at the top of our treatments, that's why we offer specific treatments only after having performed personal advise in order to ensure incredible success.

For more information on our services and to make an appointment do not hesitate to contact us by telephone or come to visit us in our offices. "Artemisia"- Wellness and Beauty Center is in San Marzano sul Sarno, Gramsci Street 115.
FIND OUT OUR TREATMENTS
LEADER OF BEAUTY – VALERIA DI PALMA
I am always prepared to welcome my guests with a smile and great professionalism; I lead my team enhancing their skills in line with the corporate vision, aimed at continuous training of our ambassadors of beauty, who are the result of my best product. Thanks to my 15 years' experience in the field of wellness, I am very detail-oriented and it is precisely those details that make our business concepts very different from others.
OUR TEAM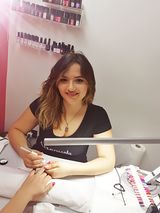 Nails Designer Sara
I specialize in the care of your hands. I am always prepared to undergo further training, taking training courses. I am able to combine my creativity with refinement and decision, putting the guests' tastes and aptitudes first. I gently make your time at our spa as comfortable and peaceful as possible.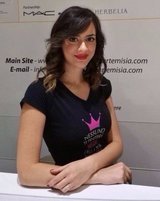 Perfect Beauty Desiree
Passion and love as well as hot products and intoxicating scents are the essential ingredients of my job and they lead me in each treatment. I always study and examine your every single need, by ensuring outperformed results. All you have to do is to be happy.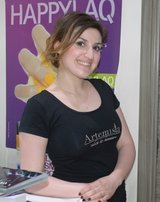 Beauty Expert Ilenia
Friendly and solar. The massage means to me curing senses and mind. In fact, touching lightly the body is like touching the soul, allowing clients to let themselves go completely. Together with the team I belong, we want the total well-being of our guests.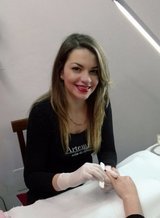 Nails Specialist Rosalba
Creative and available. I have turned my passion into a real art of drawing, doing my job humbly and lovingly. My goal is representing yourselves through my hands!
info@centrobenessereartemisia.com
115 Gramsci Street - 84010 - San Marzano sul Sarno (SA)